Blackburnian Warbler
Setophaga fusca
Passeriforme Order – Parulidae Family
BIOMETRICS:
Length: 11-12,5 cm
Wingspan: 20-21 cm
Weight: 9-13 g
LONGIVITY: Up to 8 years
DESCRIPTION:
Blackburnian Warbler adult male summer is unmistakable with its flaming orange throat and chest, and lighter orange crown centre, supercilium and sides of head. Upperparts are almost blackish, and it has a huge white wing patch.
In other plumages, the blackish ear-covert patch surrounded by yellow or orangey supercilium, sides of neck and throat, dark greyish upperparts, double white wing bars, pale yellowish underparts with streaked flanks, and very dark legs, are the distinctive features of this warbler. Tail shows extensive white in outer feathers when spread.
Male is brightly coloured, female presents similar pattern, but duller.
Immature is similar to adult female. Immature male with more yellow throat, and immature female much paler.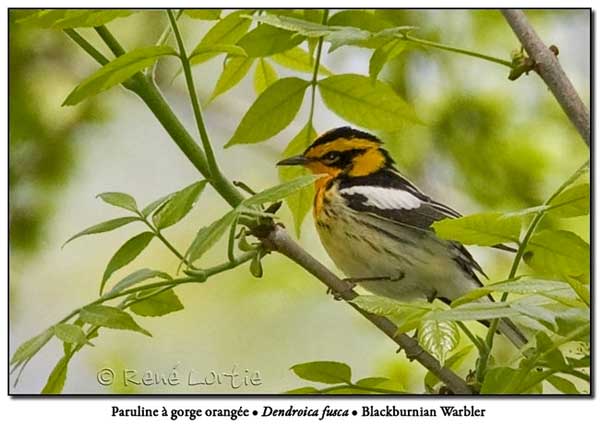 VOICE:SOUNDS BY XENO-CANTO
Blackburnian Warbler's call is a rich "chip". Most frequent song type is high and thin, ending in an ascending buzzy trill "sip-sip-sip-sip-titi-tzeeee". A variant type sound like "zillup-zillup-zillup-zizizizizi".
HABITAT:
Blackburnian Warbler breeds in tall coniferous and mixed forests, but at the other times, it's found in a variety of woodlands and tall bushes.
RANGE:
Blackburnian Warbler breeds from Saskatchewan to western Newfoundland, southward to northern Minnesota and Massachusetts, and in mountain southward to northern Georgia.
It winters in southern Central America and northern South America, southward in the Andes.
BEHAVIOUR:
Blackburnian Warbler is an active warbler of the tree canopy, conspicuously flitting, hovering and flycatching in search of insects among the outer leaves. It tends to keep high up in conifers on the breeding grounds. It gleans insects on small branches. It also hawks insects, flying from a perch to grab them in mid air.
Males exhibit elaborate patterns of chasing fleeing males, such as dropping several metres in whirling.
Male performs courtship displays, including vibrating wings and spreading tail, and a gliding display. Female crouches and flutters wings in a precopulation display. Copulation may occur as early as the second day of nest building.
FLIGHT:
Flight sequences may include or be followed by slow, shallow rowing flight, known as "moth flight". One male chased by second male, performs this flight, combined with conspicuous tail-spread, anterior part of body lower than posterior part and tail.
REPRODUCTION:
Blackburnian Warbler's nest is built by female, well out from the trunk, on a horizontal branch where it's concealed by foliage or lichen. It's located from 3 to over 80 feet above the ground, but placement is extremely variable.
Nest is cup-shaped, densely constructed, hidden in dense vegetation. Spider silk secures nest to site. Sides consist of twigs, barks, plant fibres and rootlets. It's lined with lichens, mosses, fine grasses, hair, dead pine needles and sometimes, such exotic substances as string cotton, horsehair and cattail down.
Female lays 4 to 5 white to greenish eggs, spotted with brown. Incubation lasts 12 to 13 days by female alone. Male feeds female on nest, and may forage with her when she leaves the nest. Nestlings born naked or with small down, eyes closed, and are unable to move or feed themselves. Both parents feed young in nest. Later, young join mixed foraging flocks with other species.
DIET:
Blackburnian Warbler is mostly insectivorous. It eats primarily caterpillars and beetles. It feeds on insects and spiders. It gleans insects on small branches high in tree. It will supplement its diet with fruit in the winter.
PROTECTION / THREATS / STATUS:
Blackburnian Warbler is an uncommon, but known, cowbird host. Population's numbers of this species seems to be holding steady, despite loss of preferred habitat in some areas of breeding and wintering range.