Black-throated Green Warbler
Setophaga virens
Passeriforme Order – Parulidae Family
BIOMETRICS:
Length: 11-12 cm
Wingspan: 17-20 cm
Weight: 7-11 g
LONGEVITY: Up to 6 years
DESCRIPTION:
Black-throated Green Warbler shows a combination of virtually unmarked green crown, mantle and rump, largely yellow or yellowish sides of head, blackish wings with bold double bars and whitish, but well streaked underparts, in all plumages.
Throat and upper breast range from all black to all yellow, depending on sex and age. Tail has outer feathers mostly white on inner webs. Bill is black. Eyes are dark brow, legs too.
DIET:
Black-throated Green Warbler is almost entirely insectivorous, eating butterflies and moths, beetles, bugs, wasps, ants, flies, mites, and spiders. On migration, it takes some berries and seeds.
PROTECTION / THREATS / STATUS:
Red-Squirrels and Blue Jays are major predators of eggs and young.
Black-throated Green Warbler appears to be increasing in the southern parts of its breeding range, but decreasing in the north. This decline comes from the loss of mature forest on wintering grounds. Other reason is the aerial spraying to control spruce budworms and other forest pests.
Fr: Paruline à gorge noire
All : Grünwaldsänger
Esp: Chipe de Garganta Negra
Ital: Dendroica verdastra golanera
Nd: Gele Zwartkeelzanger
Sd: Grönryggad skogssångare
Photographs by René Lortie
His website: http://rlortie.ca/
Photograph by Tom Grey
His website: Tom Grey's Bird Pictures
Text by Nicole Bouglouan
Sources:
A GUIDE TO THE BIRDS OF MEXICO AND NORTHERN CENTRAL AMERICA by Steve N. G. Howell, Sophie Webb - Oxford University Press - ISBN: 0198540124
FIELD GUIDE TO THE BIRDS OF NORTH AMERICA - National Geographic Society - ISBN: 0792274512
THE HANDBOOK OF BIRD IDENTIFICATION FOR EUROPE AND THE WESTERN PALEARCTIC by Mark Beaman, Steve Madge - C.Helm - ISBN: 0713639601
All About Birds (Cornell Lab of Ornithology)
Birds of Nova Scotia (Robie Tufts)
South Dakota Birds and Birding (Terry L. Sohl)
What Bird-The ultimate Bird Guide (Mitchell Waite)
Wikipedia (Wikipedia, The Free Encyclopedia)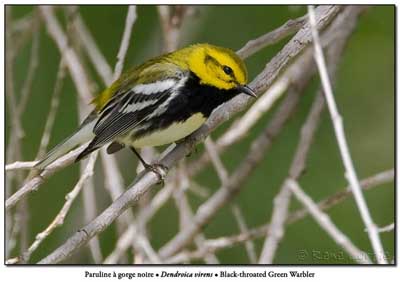 Female is similar to male, but chin and upper throat are white or pale yellow. Black may be broken across middle of breast.
Immature is very similar to adult female, but with brighter yellow face and yellow-tinged underparts.
VOICE: SOUNDS BY XENO-CANTO
Black-throated Green Warbler's usual call is a high, thin, often repeated "sit". Song is a musical but husky "zeee-zeee-zeee-zo-zee", often preceded by some fast ticking notes.
HABITAT:
Black-throated Green Warbler breeds in more open coniferous and mixed woodlands, especially areas with birch or aspen, and woodland edges. During migration, it is found in all kinds of woodlands, thickets…
RANGE:
It breeds from NE of United States, across S Canada to NE British Columbia, and southward through the Appalachians mountains to N Alabama, and also along Atlantic coast from Virginia to S Carolina.
It winters in Mexico and Central America, at higher elevations, with also small numbers in the Caribbean and N South America.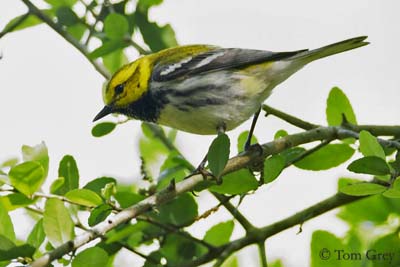 BEHAVIOUR:
Black-throated Green Warbler is an active bird of the tree canopy, where it spends much of its time, working over a small area, rather than flitting from tree to tree, like so many other species. It gleans from small branches, sometimes hovers and picks prey from leaves and branches. Most foraging is diurnal. It may hawk insects in mid air.
During wet weathers, they forage more along the bark and trunks of trees, and during migration, they also eat some berries and vegetative material. It often joins mixed-species feeding flocks with other warblers, at the end of the breeding season.
Male sings persistently during breeding season. One was observed singing 466 songs in one hour. It sings near the middle of its territory, in the beginning of the season, to attract females. It sings mostly around the territory's margins to deter other males.
FLIGHT:
Black-throated Green Warbler is very active, with an agile flight, making short flights to catch insects.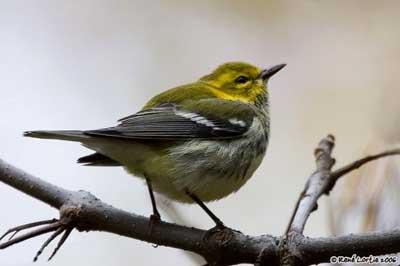 REPRODUCTION:
Black-throated Green Warbler's nest is an open cup, made with twigs, grass, bark and spider silk, and lined with moss, hair and fine black rootlets. It is located at a fork in tree branches, 3 to 10 feet from the ground.
Female lays 4 whitish eggs, with variable brown blotches or speckles. Incubation lasts about 12 days, by female. Young hatch helpless with sparse down. The male contribution to feeding the young varies, but it gives at least some food to the female, who transfers it to the young. They fledge at about 8 to 10 days.
Young remain near the nest for several days, until they can fly effectively. Part of the brood accompanies each parent for up to a month, receiving as much food as possible, by begging.
They are reproductively mature in their first year. There is only one brood per season.