Black-throated blue Warbler
Dendroica caerulescens
Passeriforme Order - Parulidae Family
BIOMETRICS:
L: 11 à13 cm; env: 17 à 20 cm; poids: 8 à 12 gr.
LONGEVITY: 9 years
DESCRIPTION: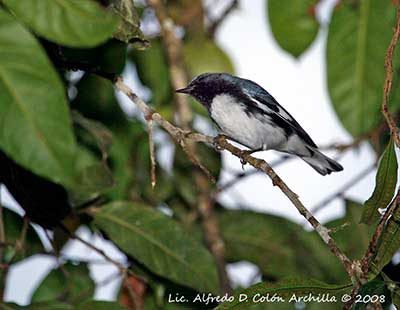 Black-throated Blue Warbler male is dark blue on head and upperparts, with black face, throat, sides of the breast and flanks, contrasting with gleaming white centre of breast and lower underparts and conspicuous white patch at base of primaries. It has conspicuous white patches in outer tail. Legs are black. Eyes are black. Bill is short, thin and black.
REPRODUCTION:
Black-throated Blue Warbler's bulky nest is an open cup of strips of bark, dead leaves and moss, held together with spider web and saliva. It is located in fork of low shrub, and it is built by female, which choose the nest site, although the male may contribute for some materials.
Female lays 2 to 5 creamy white eggs, with dark speckles. Incubation lasts about 12 to 13 days, by female. Chicks hatch helpless with sparse down, and fledge at 11 to 12 days after hatching. They are cared by both parents.
DIET:
Black-throated Blue Warbler feeds on fruits, seeds, nectar and tree sap, especially in winter, but in summer, they eat insects such as moths, caterpillars, aphids, beetles and flies.
PROTECTION / THREATS / STATUS:
Wooded habitat loss in 17th and 18th centuries has probably contributed to populations decline. But since late 19th and 20th centuries, populations rebounded and seem stable. Nest failure result from predation by Blue Jay and squirrels.
Female has a rather dull dark greyish-olive green above and buffy-yellow below with conspicuous whitish surpercilium, a broken whitish eye ring, and a whitish patch at base of primaries.
Immature is similar to adult. Back and head feathers of male are edged with green, undersides are tinged yellow, and has some white tips to black feathers on throat.
Young female is like adult, more yellowish and sometimes without white spot on wing.
VOICE: SOUNDS BY XENO-CANTO
Black-throated Blue Warbler's calls include a weak "sep", and a single sharp "dit". Song is a lazy, wheezy "zweea-zweea-zweea-zwee", with the last note ascending, or a slower "zur-zurr-zree".
HABITAT:
Black-throated Blue Warbler breeds in deciduous and mixed woodlands with shrubby undergrowth, and also in mountain laurel thickets. It winters in dense tropical forests. In migration, it's found in forests, forest edges, parks and gardens.
RANGE: Black-throated Blue Warbler breeds from SO Ontario and NE Minnesota, eastward to Nova Scotia, southward through New England, New York, and Pennsylvania, and in mountains southward to N Georgia.
It winters in Bahamas, Greater Antilles and the Caribbean Coast of Yucatan to Honduras.
BEHAVIOUR:
Black-throated Blue Warbler is a bird of the tree canopy, where it actively flits and flycatches for insects as it works through the foliage. It forages mostly in lower to mid-levels of forest, taking insects from the underside of leaves. It's an expert catcher of flies, pursues insects to a considerable distance in all directions, and in seizing them, it snaps its bill producing a clicking sound.
This warbler is among the tamest and most trusting of this family, and may be approached to within a few feet.
In both breeding and wintering habitats, adults show strong fidelity to territory sites, often returning to the same cluster of shrubs year after year.
Black-throated Blue Warbler is socially monogamous during the breeding season.
FLIGHT:
Black-throated Blue Warbler performs agile and rapid flight, flitting actively through foliage to feed on insects.