Black-necked Crane
Grus nigricollis
Gruiforme Order – Gruidae Family
INTRODUCTION:
The Black-necked Crane is the only member of the family Gruidae living at high elevation, between 3000 and 4900 metres. However, this elegant crane descends to lower areas in winter.
This species is classified as Vulnerable due to its small populations and its restricted range.
DESCRIPTION OF THIS BIRD:
Biometrics:
Length: 135-139 cm
Wingspan: 180-200 cm
Weight: 5000-7000 g
The adult has whitish-grey body plumage, with black primaries, secondaries and uppertail feathers.
The neck is black, giving the species its name. On the black head, we can see a small, white postocular patch. The bare skin of the crown is red.
The long bill is dull yellow. The eyes are yellow. Long legs and feet are dark grey.
Both sexes are similar.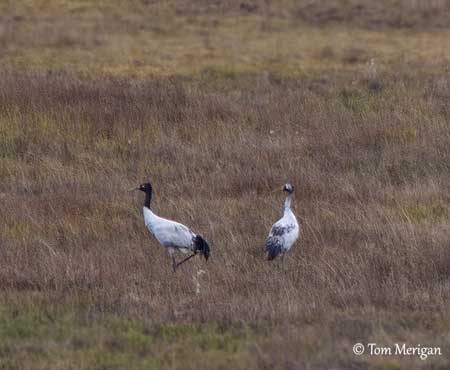 CALLS AND SONGS: SOUNDS BY XENO-CANTO
The Black-necked Crane gives high-pitched, penetrating, trumpeting calls, similar to those of other Gruidae.
BEHAVIOUR IN THE WILD:
The Black-necked Crane feeds on plant matter and animal food. Like other cranes, it feeds on roots and tubers, but also takes large insects, snails, shrimps, fish, frogs, lizards and small rodents, mainly voles. It forages in wetlands, streams and pastures by walking.
On the wintering grounds, it feeds on waste grain such as barley, wheat and other cultivated crops, tubers, seeds, earthworms, insects and snails. It forages in pastures and cultivated fields.
During the breeding season, the Black-necked Crane is found in high wetlands. Like in all cranes' species, courtship displays are noisy and spectacular. Mated pairs engage in unison calling with the bill held upwards. Displays are usually initiated by females, and then, all the cranes engage in dancing, including bowing, jumping and running. These displays are also used during social behaviour to relieve tension and to strengthen the pair bonds.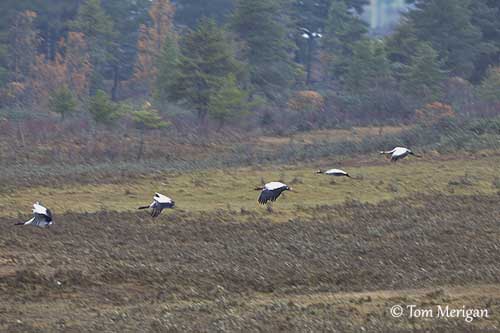 REPRODUCTION OF THIS SPECIES:
The breeding season takes place in spring with the laying between early May and mid-June.
The Black-necked Crane breeds in high altitude freshwater wetlands. The nest is built in shallow wetland, usually on a small grassy island or in the water. It is made with aquatic vegetation, sedges, grass and mud.
The female lays two eggs. Both adults share the incubation during 30-33 days. The male defends strongly the nest-site. The chicks are covered with brown down. They fledge about three months after hatching.
PROTECTION / THREATS / STATUS:
The Black-necked Crane is threatened by loss and degradation of the habitat on its wintering grounds. Drainage of wetlands, dam construction and overgrazing are the main threats facing this species.
In Tibet, changes in agricultural practices reduce the winter food resources. In spite of complete legal protection, including by religious traditions, this crane is still threatened by hunting pressure.
Conservation measures for habitat protection at important wintering sites are on their way.
This specie is currently classified as VULNERABLE.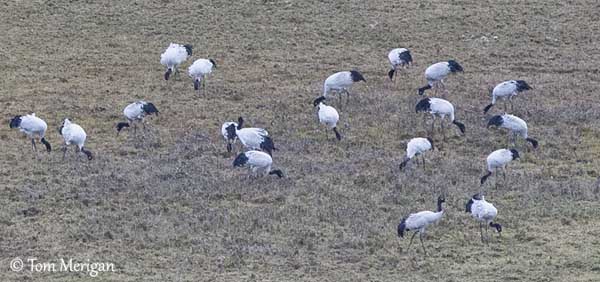 The Black-necked Crane performs altitudinal post breeding movements between the breeding grounds at high elevation and the wintering areas at lower altitude. They remain on their wintering areas from mid-October/early December to March/mid-April.
The Black-necked Crane is a good flier. It takes flight by running into the wind to gain speed before to lift into the air by pushing with the large wings. It has an elegant silhouette while flying with the neck stretched straight forwards, and the long legs trailing behind. It alights in a normal standing stance.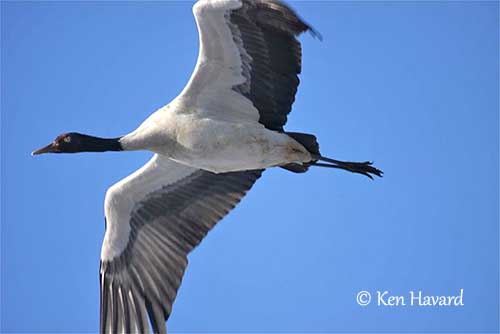 The juvenile has more greyish-yellow plumage, black-and-white neck and buff-coloured head. It gets the adult plumage at one year.
RANGE:
The Black-necked Crane breeds in NW India, through Tibet to W and C China.
It winters from S Tibet, Qinghai Plateau, Bhutan and NW Arunachal Pradesh in NE India, and E to SC China.
HABITAT:
The Black-necked Crane is found at high elevation during summer, between 2950 and 4900 metres on Tibetan Plateau. This species breeds in grassy wetlands, pastures, meadows, marshes, along streams and lakes. It can be seen near human settlements too.
It reaches lower altitude in winter, down to 1375 metres, in open country, cultivated areas, and sometimes ricefields.