Bay-breasted Warbler
Setophaga castanea
Passeriforme Order – Parulidae Family
BIOMETRICS:
Length: 14 cm
Wingspan: 20-22 cm
Weight: 10-17 g
LONGEVITY: Up to 3 years
DESCRIPTION:
Bay-breasted Warbler male in summer plumage has chestnut crown, throat, upper breast and flanks, black mask and creamy patch on side of neck and belly. It's a wood warbler with two prominent white wing bars in all plumages. It has a short, slender and sharp-pointed bill. Legs and feet are usually dark. It has a short rounded tail.
Summer female has also two white wing bars and streaked crown and mantle. It shows some weak chestnut suffusion on breast sides and fore flanks, and a rather indistinct creamy patch on side of neck.
Winter adults and 1st winter show even brighter green ground colour from crown to mantle, and little or no streaking on underparts.
VOICE: SOUNDS BY XENO-CANTO
Bay-breasted Warbler's calls are a soft "chip" and a thin "seet". A high-pitched, loud and buzzy call note "zip" or "zee" is given both in flight and while feeding. Alarm calls include a sharp-sounding metallic "chip" and a "tititi".
Song is a rather quiet, high-pitched "seetzy-seetzy-seetzy-see".
FLIGHT:
Bay-breasted Warbler has an agile flight, and hovers to catch insects.
REPRODUCTION:
Bay-breasted Warbler's nest is located in a spruce, birch or hemlock tree, even in shrubs, from 12 to 40 feet above the ground. Cup-shaped nest is made with dried grass, stalks, mosses, roots, twigs, lichens, insect and spider silk and spider web. It's lined with bark strips, hair of rabbit and plant down.

Female lays 4 to 6 white eggs, with brown spots. Incubation lasts about 12 days, by female. Nestlings are altricial and covered with brown down. During the first few days, female broods the young, while it's fed by the male. Female often trembles, slightly droops and flutters its wings when male arrives at nest. Male responds by passing food to female.
Young leave the nest at 10 to 11 days after hatching, but are fed by adults for several days.
DIET:
Bay-breasted Warbler feeds primarily on moth and butterfly larvae, including spruce budworms during breeding season. In fall, they eat berries, as well as insects and caterpillars. In winter, they feed on insects and fruits from trees and shrubs.
PROTECTION / THREATS / STATUS:
Populations increase and decrease in correspondence with spruce budworm outbreaks. Pesticides used to control them may affect the bird's population. Habitat destruction and tropical deforestation is another concern.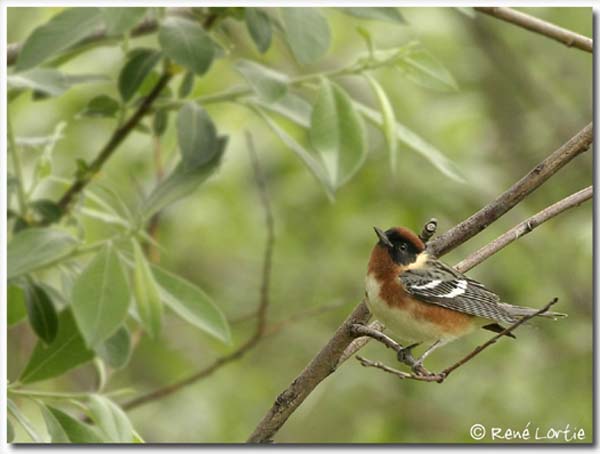 HABITAT:
Bay-breasted Warbler breeds in open coniferous forest (spruce and fir). It winters in lowland tropical forest and second growth.
RANGE:
Bay-breasted Warbler breeds in Central and eastern Canada, and southwards, to the northern parts of the United States. It winters in Panama and NW South America.
BEHAVIOUR:
Bay-breasted Warblers are very active, hopping in thickets and leaves of trees, searching insects. Generally gleans prey from the mid-level in coniferous trees, on lichen-covered limbs with little foliage, but it can forage at other heights, in broad-leaved foliage. Its movement is a radial direction around tree, or moving along branches, or short flights to adjacent branches. It may hover to capture insects. Generally, it moves slowly for a warbler among branches. It flicks its tail in a down up movement while feeding.
During incubation, if disturbed, female flaps its wings and spreads its tail to feign injury when human approach the nest.
Males attack and chase each other on breeding grounds. Crown feathers are raised during alarm.