Bald Eagle
Haliaeetus leucocephalus
Accipitriforme Order – Accipitridae Family
BIOMETRICS:
Length: 85 - 110 cm
Wingspan: 180 - 220 cm
Weight: 3500 - 6000 g
DESCRIPTION OF THE BIRD:
The Bald Eagle is a large raptor.
Both adults have a combination of white head and neck, and white tail, contrasting with blackish brown body. Bill is strong, large and hooked. Bill and cere are yellow. Eyes are yellow. Unfeathered legs and feet are yellow too. It has great, black talons. Bald eagle has broad wings and slightly wedge-shaped tail.
Sexes are similar, with female larger than male.
Immature shows dark brown and white plumage. The white colour is scattered on their body, and mottled brown in the same area. Bill and cere are blackish-grey. Eyes are dark brown. Feet and legs are yellow.
They develop adult plumage when they are sexually mature, at 4 to 5 years old.
Nestlings have grey-white down on body.
VOICE: SOUNDS BY XENO-CANTO
Bald Eagle's calls are a high-pitched and shrill, "kweek-kik-ik-ik-ik-ik-ik", and a lower-pitched "kak-kak-kak-kak".
HABITAT:
Bald Eagle breeds in forest areas near water. It winters in large lakes, rivers and coastal areas where fish is abundant.

RANGE:
Bald Eagle breeds from Alaska, throughout Canada.
It winters in Alaska and Canada coasts, and also throughout 48 states. It lives from Alaska to Baja California and from Maine to Florida.
BEHAVIOUR:
The Bald Eagle is a bird of prey. To feed, it swoops down to catch fish with its powerful claws (about 70 kg of pressure per square centimetre in each foot). It carries its prey off in flight, and it can lift about half of its weight.
Bald Eagle is monogamous and mates for life. During breeding season, they establish and defend the territory. Courtship display begins in spring, involving spectacular flights displays. Eagles dive and lock talons from each other. Then, they tumble towards the ground, stopping at the last moment before to touch the ground.
Bald Eagles living in northern parts of the habitat migrate to South to winter. They gather on feeding and roosting areas near waters where fish is abundant.
FLIGHT:
Bald Eagle can fly at 3000 metres or more. It often soars for hours in natural winds currants and thermal updrafts. It can fly 32 to 64 km per hour in normal flight, and dive at speeds over 160 km per hour.
Female lays 1 to 3 dull white eggs. Incubation lasts about 31 to 45 days by both adults. During this time, one parent remains always on the nest, to protect eggs from predators (squirrels, ravens, gulls…). Male brings food to the nest and sometimes, female shares hunting after the first days at nest. Young are fed and brooded by both parents until the first flight, at about 12 weeks. Eaglets are full size at 12 weeks of age, and they can fly well at three months old. Only 50% of young survive the first year. If two chicks hatch, the older will kill the smaller one. It is not uncommon. Parents don't make efforts to stop this behaviour.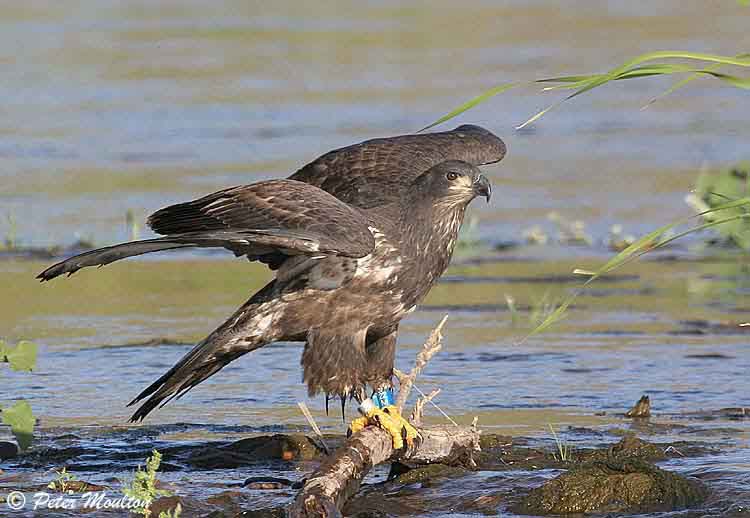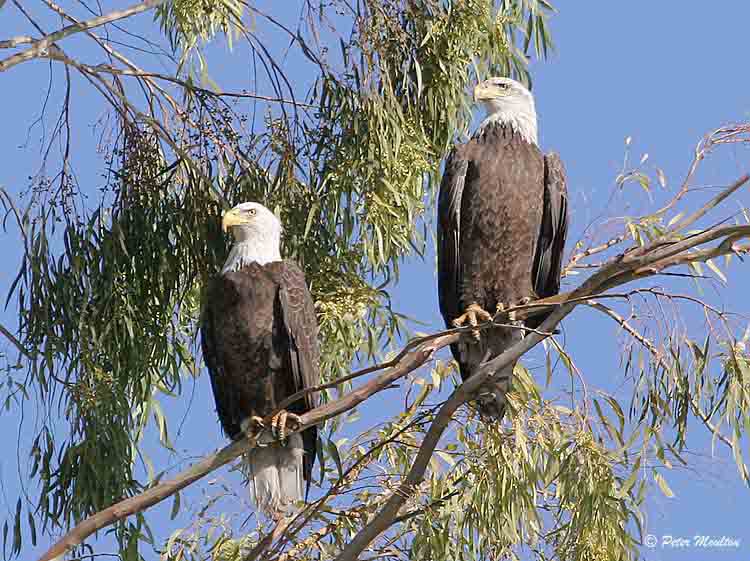 PROTECTION / THREATS / STATUS:
Population decline of the last century was caused by humans. Shooting, pesticides, habitat loss and contamination of water and food sources by poisons, are very important threats.
Bald Eagles continue to be harassed, injured and killed by numerous methods, but use of DDT pesticide is now controlled in United Sates, and this action has contributed to the return of this wonderful bird to America's skies.
Bald Eagle is the symbol of United States since 1782. It was chosen because it symbolised strength, courage, freedom and immortality. It can be found in many places in US, flags, money and seals.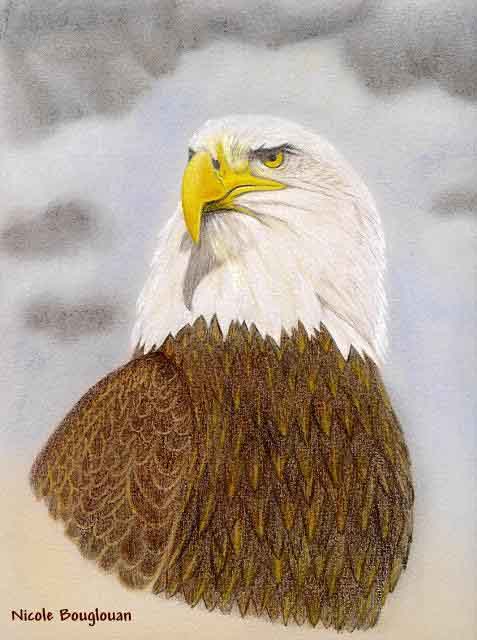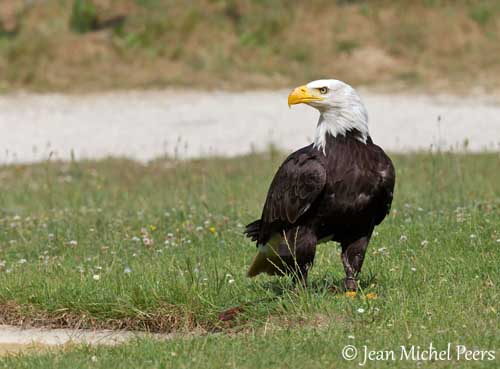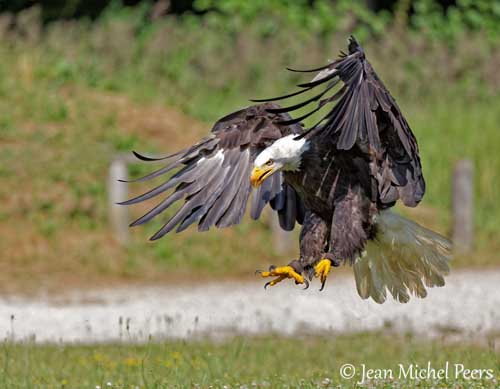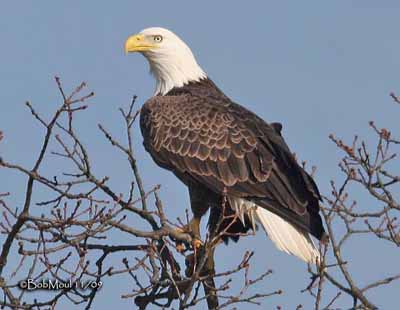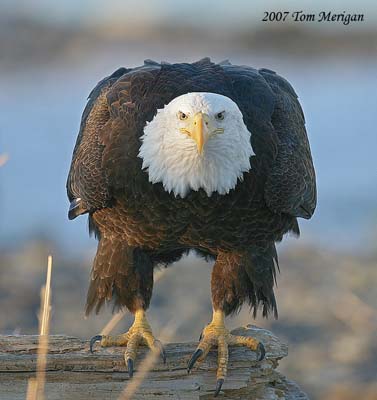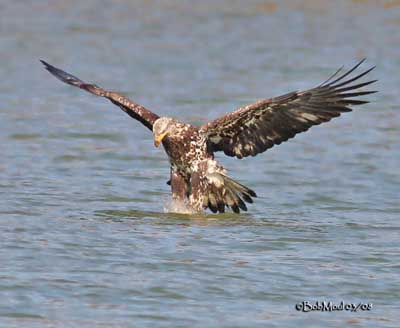 Bald Eagle can swim to the shore if its prey is too heavy to lift. It uses its broad wings as paddles, making an overhand movement. It is a diurnal feeder.
It uses its keen eyesight to find preys. It can see a rabbit from a mile away. It can see colours.
It grabs the prey with its strong talons. When they eat small prey whole, they regurgitate the parts like hair, feathers and bones.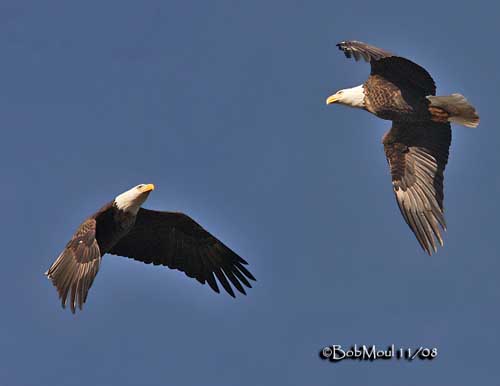 REPRODUCTION:
Bald Eagle's nest is large and called "eyrie". It is located at the top of tall trees or on cliffs. Eagles return to breed on the same site year after year, adding new materials. Then, nest becomes larger, and can reach 1,5 to 2 metres of diameter and one ton in weight. It is made with twigs and leaves, and lined with finer wood materials, mosses, grasses and feathers.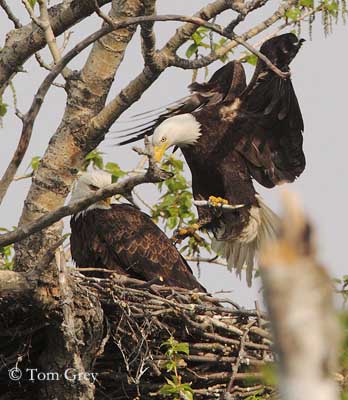 DIET:
Bald Eagle feeds mainly on fish, but it can eat small animals such as mammals, waterfowls and wading birds. Occasionally, it may feed on dead animals.
Young are fed by pieces of meat, given by parents.