Azure Tit
Cyanistes cyanus
Passeriforme Order – Paridae Family
BIOMETRICS:
Length: 12-13 cm
DESCRIPTION:
Azure Tit is much paler than the other tits.
The upperparts are pale blue, including the long tail with conspicuous white corners, and the blue upper wings with very broad white wing bar, and white areas on tertials and tips of flight feathers.
The underparts are white with a fine dark blue streak or spot on breast.
The head is white on crown and cheeks. We can see a half dark blue collar on the nape, and a dark line through the eye, coming from the base of the bill and joining the dark blue nape. The conical short bill is bluish-grey. The eyes are black. Legs and feet are bluish-grey.
Both sexes are similar.
The juvenile is duller, with greyish head and underparts, much greyer than blue on mantle and greyer wings.
Azure Tit may hybridize with Blue Tit, giving the subspecies called "pleskii".
Fr: Mésange azure
All : Lasurmeise
Esp : Herrerillo Ciáneo
Ital : Cinciarella azzurra
Nd : Azuurmees
Russe : Белая лазоревка
Sd : Azurmes
Photographers:
John Anderson
John Anderson Photo Galleries
Aurélien Audevard
OUESSANT DIGISCOPING
Jean Michel Fenerole
Photos d'Oiseaux du monde
William Price
PBase-tereksandpiper & Flickr William Price
Text by Nicole Bouglouan
Sources :
HANDBOOK OF THE BIRDS OF THE WORLD Vol 12 by Josep del Hoyo-Andrew Elliott-David Christie - Lynx Edicions - ISBN: 8496553423
ENCYCLOPEDIE DES OISEAUX DE FRANCE ET D'EUROPE – de Peter Hayman et Rob Hume - Flammarion – ISBN : 2082009920
THE HANDBOOK OF BIRD IDENTIFICATION FOR EUROPE AND THE WESTERN PALEARCTIC by Mark Beaman, Steve Madge - C.Helm - ISBN: 0713639601
BIRDS OF THE MIDDLE EAST by R.F. Porter, S. Christensen, P Schiermacker-Ansen C.Helm - ISBN: 0713670169
XENO-CANTO – Sharing Birds sounds from around the world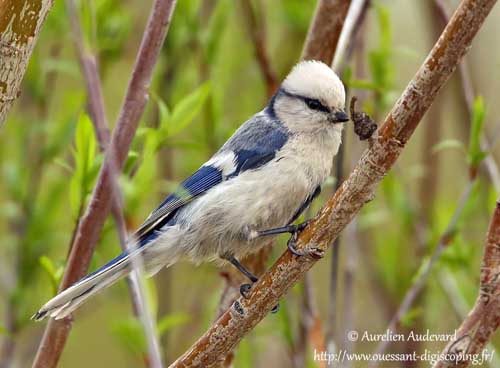 BEHAVIOUR:
The Azure Tit has the same behaviour as the Blue Tit. It forages in gardens, for seeds and insects, but also on bird-feeders. In wooded areas, they feed in mixed flocks with other tits.
They are very active, acrobatic birds, feeding along tree climbs, as in bushes or on the ground. They may hang upside down, searching for food in bark crevices.
Azure Tit and Blue Tit hybridize when their breeding range overlap in Western Russia. Hybrids birds are named "Pleske' Tit", and may be considered a distinct species.
The Azure Tit is resident in its range, and most birds do not migrate. They live in the temperate parts of countries, but this is a nomadic species.
The Azure Tit is aggressive when defending the nest site or when disturbed. It may hiss and bite at intruders.
VOICE: SOUNDS BY XENO-CANTO
Azure Tit's calls resemble Blue Tit's calls, some "dee-dee-dee" or a loud "churr". The song is brief but distinctive, a kind on trill repeated "tsi-tsi-tshurr". The alarm call is a loud "tcherpink". We can also hear a buzzy "cheweez-zee" and a complex "tsee-tsee-chi-chi-cheweez".
HABITAT:
The Azure Tit lives in temperate deciduous or mixed woodlands with dense undergrowth, scrubs along wet areas, and willows along rivers, marshes and gardens with trees. Outside the breeding season, it may be found in reedbeds.
RANGE:
The Azure Tit is a common breeder throughout Russia and Central Asia where it is widespread. It is very occasional in Western Europe, but they may wander to the western part of their range in winter.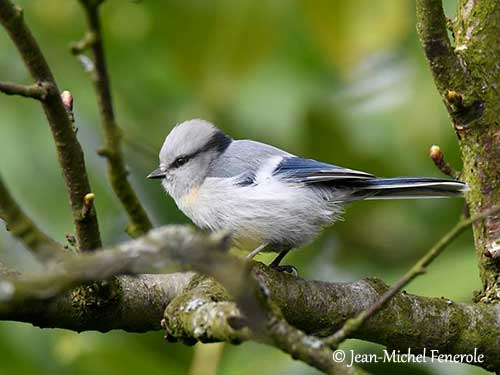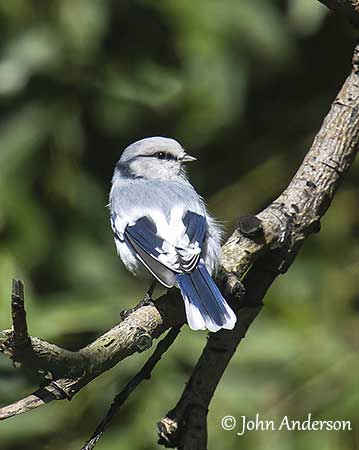 During the breeding season, the male performs courtship feeding, offering some food to its mate.
This species is the eastern counterpart of the European Blue Tit.
FLIGHT:
The Azure Tit's flight is rather weak and undulating.
REPRODUCTION:
The Azure Tit's nest is situated in a hole in tree or wall.
The female lays about 10 white eggs, spotted with reddish-brown. The incubation lasts about 13 to 14 days. The altricial chicks are fed by both parents. The young fledge at about 17 to 20 days after hatching.
In suitable habitat, the female Azure Tit may lay 14 to 15 eggs per brood, and large clutches are usually seen.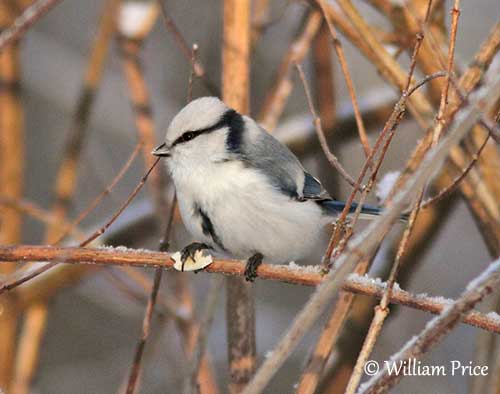 DIET:
The Azure Tit feeds on insects and other invertebrates from spring to autumn and on seeds, nuts and berries in winter.
PROTECTION / THREATS STATUS:
The Azure Tit is common and widespread in its range, and this species has a large global population.