Arctic Warbler
Phylloscopus borealis
Passeriformes Order – Phylloscopidae Family
INTRODUCTION:
The Arctic Warbler is part of the Old World Warbler group (formerly Sylviidae), and the only member that established a foothold in North America, as it breeds in Alaska. This small passerine is strongly migratory, and travels long distances from its breeding grounds in N Eurasia, N Asia and Alaska to the wintering areas in SE Asia. Three subspecies are recognized and share the wide range.
It nests in the northern taiga zone and at the edge of the tundra, often near water. It winters mainly in lowlands, and frequents mixed forests and mangroves.
During the breeding season, its song makes it unmistakable. It is a far-carrying, monotonous but fairly melodious rattle, and recalls the main phrase of the Wood Lark's song.
The Arctic Warbler was described in 1858 by Johan Heinrich Blasius, a German zoologist.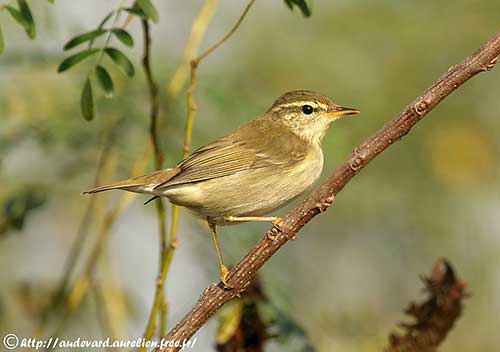 DESCRIPTION OF THE BIRD:
Biometrics:
Length: 12-13 cm
Weight: 7,5-15 g
The Arctic Warbler adult of nominate race has greyish/olive-green crown and upperparts. On the upperwing, the white tips of the greater coverts form a conspicuous pale wingbar. The median-coverts have narrower, more indistinct white tips, forming a short wingbar in fresh plumage. Flight feathers and rectrices are dark brown with narrow greenish edges.
The underparts are mainly white, but breast and flanks are tinged greyish or slightly streaked.
On the head, we can see a conspicuous creamy-white supercilium extending to the sides of the nape, and a broad, dark olive-green eyestripe from lores to rear of ear-coverts, the latter with pale yellowish/dark olive-green mottling.
The broad-based bill is dark brown with paler (yellowish-orange) base of lower mandible. The eyes are dark brown. Legs and feet may vary from yellowish to orange-brown.
Male and female are similar.
The juvenile resembles adults but it is grey-brown above. On the underparts, breast sides and flanks are tinged pale brown.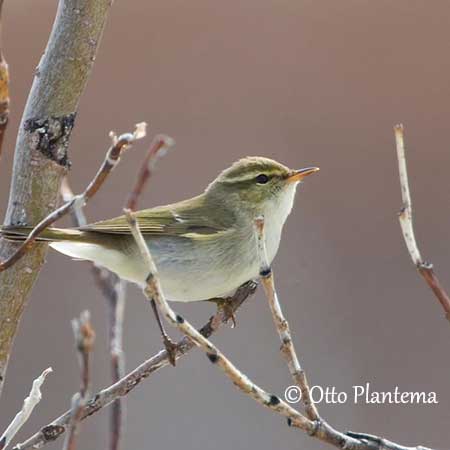 SUBSPECIES AND RANGE:
The Arctic Warbler has three subspecies.
P.b. borealis (described above) breeds in N and E Fennoscandia and N Russia, E in N Siberia to R. Kolyma, S to SC Siberia, Mongolia and NE China (N and E Manchuria). It winters in SE Asia, SE China and Taiwan, S to Sunda Islands.
P.b. xanthodryas breeds in NE Russia, S to Sakhalin, Kuril Island and Japan. It winters in Taiwan, Borneo, Philippines and Indonesia.
This race resembles nominate, but it appears brighter green in fresh plumage, and less grey. The underparts are variable, but usually more yellow. The wings are longer and the bill is broader.
P.b. kennicotti breeds in NW North America in W Alaska. It winters in Philippines and Indonesia, E to Lesser Sunda Islands.
This one resembles nominate too, with slightly brighter green upperparts, and brighter yellow underparts. It is smaller and has shorter bill.
HABITAT:
The Arctic Warbler breeds in birch, usually in fairly open coniferous woodlands, in thick undergrowth, often on slopes, also in dwarf willow clumps in damp valleys, in the northern taiga zone and at tundra's edge. It may breed up to 2500 metres of elevation in thickets, and scrub above the tree line. It frequently nests near water.
During winter, it occurs mainly below 1800 metres, in clearings of mixed woodland, at rainforest edges, secondary growths and wooded streams. It also frequents the edges of cultivated areas, gardens and mangroves.
The migrating birds occur above 1800 metres and frequent both wooded and bushy areas.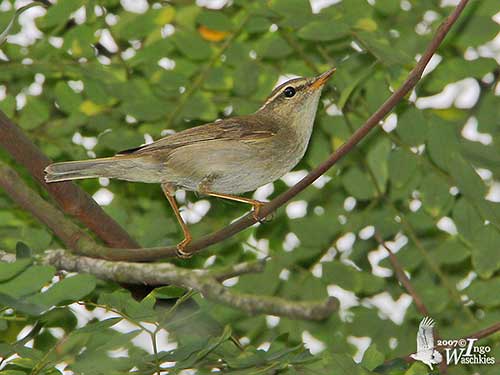 CALLS AND SONGS: SOUNDS BY XENO-CANTO
The Arctic Warbler's call is a loud, sharp "dzit" or "dzrt" usually repeated.
The song is a far-carrying, monotonous but fairly melodious whirring trill, an insistent or hammering sound "dyryryryryryryryr…" or "derererererererere…" that varies in pitch and speed. This song is usually interspersed with call notes.
BEHAVIOUR IN THE WILD:
The Arctic Warbler feeds primarily on insects, a wide variety of species such as beetles, mosquitoes, flies, leafhoppers, caterpillars, tree bugs, mayflies and numerous others. It also consumes spiders, small snails and crustaceans.
It is always very active while foraging. It searches for prey among the foliage of bushes and trees, along twigs and leaves. It often hovers under small branches of conifers for insects. It catches concealed insects by hovering underneath foliage or tips of branches. It also captures flying insects in mid-air.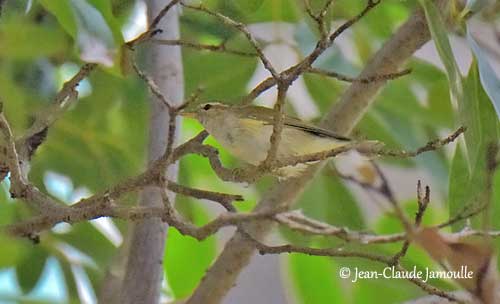 During the breeding season, the male sings to defend the nesting area, and the distinctive song is a specific signal that determines the limits. Aggressive encounters between males also occur, during which they flap their wings slowly while singing, and perform aerial chases.
These displays are also used in pair formation. Both adults perform slow wing-flapping while crown and rump feathers are raised, and the male chases the female in flight. They are usually monogamous, although some records of polygyny are occasionally reported in Finland, Russia and Japan.
The Arctic Warbler migrates S to SE Asia after breeding, travelling very long distances to reach the wintering areas (up to 13,000 km from extreme W range to SE Asia).
They leave Scandinavia and NW Russia in August. The race "xanthodryas" leaves slightly later, whereas the race "kennicotti" leaves in mid-August/early September.
The return migration to N takes place in April to early may. The first arrivals in C Siberia occur the first week of June, most arriving in late June.
The Arctic Warbler performs short, weak, fluttering flight with rapid, shallow wingbeats.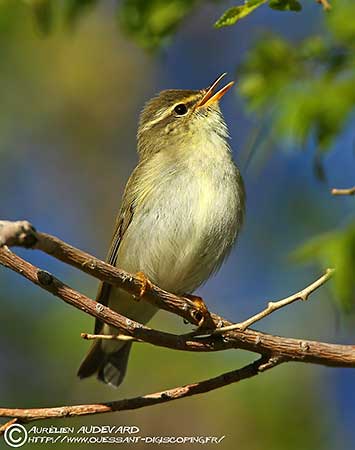 REPRODUCTION OF THIS SPECIES:
The breeding season takes place from late June to August. This species produces a single brood per season, sometimes two in Japan.
The Arctic Warbler nests on the ground, often under dense shrubs on mossy ground, or in natural crevice, or among tree roots, or hidden in grass tussock. The female builds a dome-shaped nest with a lateral entrance. It is made with grass, weeds, moss, leaves, and the lining is made with finer grass.
The female lays 5-7 white eggs with fine brown dotting. She incubates during 11-13 days, and broods the chicks that are fed by both parents. The young fledge 12-14 days after hatching, but they still depend on parents for food for two weeks.
PROTECTION / THREATS / STATUS:
The Arctic Warbler is common to locally common throughout the breeding range, and variably scarce to locally common in the wintering range.
The global population was estimated to number 30,000,000 individuals in 2004, with 4,500,000/8,000,000 breeding pairs in Europe. This population is suspected to be stable, and the Arctic Warbler is currently evaluated as Least Concern.