American Golden Plover
Pluvialis dominica
Charadriiforme Order – Chradriidae Family
BIOMETRICS:
Length: 24-28 cm
Winspan: 66-72 cm
Weight: 120-190 g
DESCRIPTION:
Very similar to the Pacific Golden Plover (Pluvialis fuscus), it is slimmer, with yellower back. It also resembles Eurasian Golden Plover (Pluvialis apricaria), but it is smaller although its legs are longer.
Fr: Pluvier bronzé
All: Amerikanischer Goldregenpfeifer
Esp: Chorlito Dorado Americano
Ital: Piviere dorato minore
Nd: Amerikaanse Goudplevier
Russe: Бурокрылая ржанка
Sd: Amerikansk tundrapipare
Photographers:
Maxime Dechelle
LEPAPARRAZO
Marc Chrétien
MURINUS
Patrick Ingremeau
TAMANDUA
Eduardo Andrés Jordan
MIS AVES – AVES DE ARGENTINA
Text by Nicole Bouglouan
Sources :
HANDBOOK OF THE BIRDS OF THE WORLD Volume 3 by Josep del Hoyo-Andrew Elliott-Jordi Sargatal - Lynx Edicions - ISBN : 8487334202
THE HANDBOOK OF BIRD IDENTIFICATION FOR EUROPE AND THE WESTERN PALEARCTIC by Mark Beaman, Steve Madge - C.Helm - ISBN: 0713639601
SHOREBIRDS by Peter Hayman, John Marchant and Tony Prater – Christopher Helm – 1986 – ISBN: 0747014035
GUIDE DES LIMICOLES de D. Taylor - Delachaux et Niestlé - ISBN : 2603014080
All About Birds (Cornell Lab of Ornithology)
What Bird-The ultimate Bird Guide (Mitchell Waite)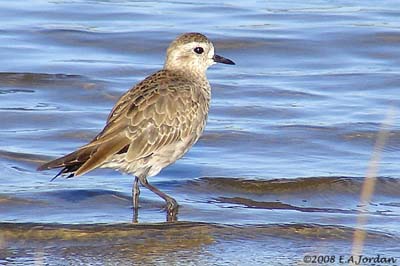 American Golden Plover in winter plumage has dull grey-brown crown and upperparts, with more or less edged golden, yellow or whitish feathers.
Underparts are whitish, with greyer and spotted brownish breast and flanks. Belly is paler with indistinct pale brown spots. Undertail coverts are white. Underwing is grey-brown. We can see a conspicuous white eyebrow.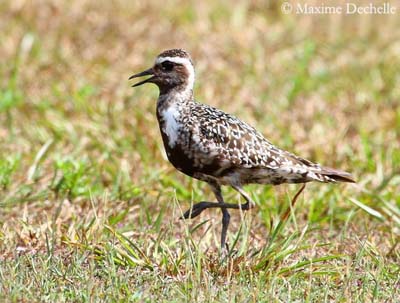 Adult male in breeding plumage has blackish-brown and golden upperparts, and black underparts. A white stripe extends from forehead, eyebrows and head sides down to breast sides.
Straight bill is black. Eyes are dark brown. Legs and feet are blackish.
Female is duller and has usually whiter underparts.
Juvenile and non-breeding adults have white throat, grey-brown breast and white belly. Breast and flanks may be spotted or speckled brown.
Upperparts are dark brown with pale yellow spots. Eyebrow is white.
VOICE: SOUNDS BY XENO-CANTO
American Golden Plover's typical call includes sharp « klii-i » or monosyllabic "klip", and plaintive "klu-iit" with quavering second syllable. Usually, calls are high-pitched.
The song given in flight is a shrill "ku-whiip".
HABITAT:
American Golden Plover frequents meadows, pastures, shores and wet areas with low vegetation.
During migrations, it may frequent various habitats such as coastal marshes and estuaries, salt-marshes and fields.
It breeds in arctic and subarctic tundra, in valleys with low vegetation of moss and lichens.
RANGE:
American Golden Plover breeds in Alaska and northern Canada, and it winters in Brazil and Argentina, to Tierra del Fuego.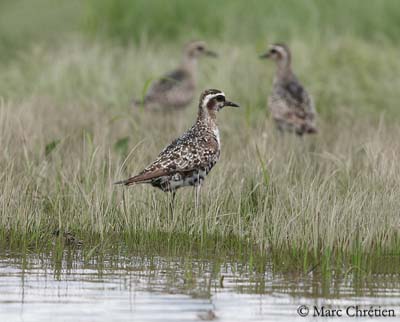 BEHAVIOUR:
American Golden Plover is migratory. It travels from Arctic to southern South America (about 5000 to 7000 km) every year. During migrations, flocks are very noisy, and they turn and land in unison when they make stopovers.
They sleep in communal roosts in salt-marshes or fields near water, and occasionally on coastal beaches.
American Golden Plover usually walks or runs, but it is able to perform rapid, long-distance flights.
This bird is highly territorial in breeding areas, and some of them may defend the feeding areas in winter.
It feeds as all plovers, stopping and running while pecking on the ground.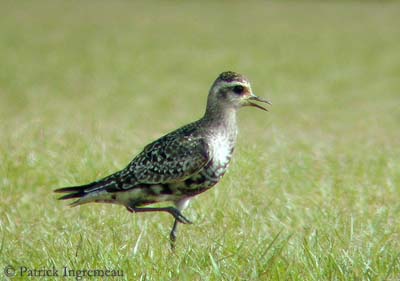 Male starts the flight displays and the pairs establish the territory as soon as they arrive at breeding areas.
FLIGHT:
American Golden Plovers fly in large flocks during the migrations.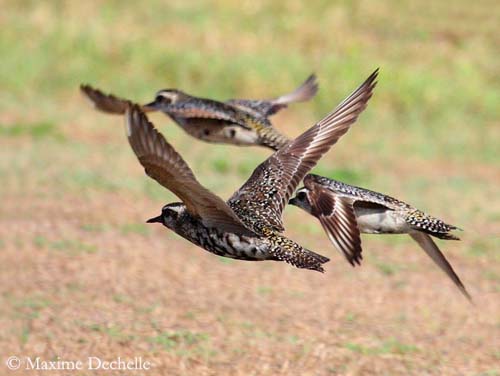 REPRODUCTION:
American Golden Plover is monogamous during several years. Laying occurs from June to mid-July. They nest in small loose colonies with a density of 6 pairs/km2. This species regularly returns to the same nesting sites.
Nest is a scrape made by the male, lined with lichens, dry leaves, grass and moss. Nest is placed in dry area in open tundra.
Female lays 4 cinnamon to pale buff eggs with black and brown markings. Incubation lasts about 26 days. Usually, male incubates by day and female at night.
Chicks are precocial and able to feed themselves a few hours after hatching. They are reared by both parents. They fledge about 22-24 days after hatching.
This species produces only one brood per year.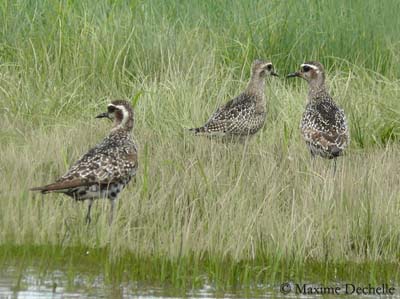 DIET:
American Golden Plover feeds primarily on insects, but it also takes worms, spiders, grass seeds, small molluscs and crustaceans. Berries are important complement in spring and fall.

PROTECTION / THREATS / STATUS: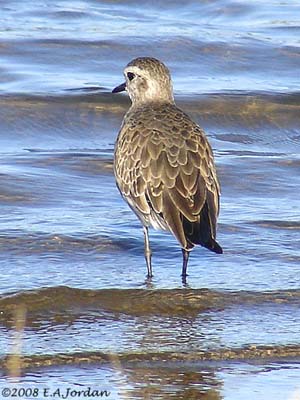 Excessive hunting in 19th and early 20th centuries (only one day of hunting killed 48.000 birds) involved important declines in the population.
Nowadays, American Golden Plover is not disturbed by human activities in breeding areas, but migratory routes and wintering areas are more and more restricted by increase of agriculture and urbanization.
In addition, pesticides and other pollution, storms while migrating, predators such as birds of prey are important threats.
However, populations are not threatened at this moment and remain relatively stable.