Adelaide's Warbler – Setophaga adelaidae
Passeriforme Order - Parulidae Family
BIOMETRICS :
Length: 12 cm; Weight: 7 gr.
DESCRIPTION:
Adelaïde Warbler is endemic to Puerto Rico.
It has grey upperparts. Underparts are bright yellow on throat and breast. Belly is white. Wings show two white wing bars.
It has a yellow and white eyebrow, and a white or yellow crescent below eye.
The bill is blackish-brown. Eyes are dark brown. Legs and feet are brown.
FLIGHT:
Adelaïde warbler travels in flocks with other species.
REPRODUCTION:
Adelaïde warbler's nest is located at up to 3 to 20 feet above the ground, in a tree.
Female lays 2 to 4 white eggs, spotted with brown.
DIET:
Adelaïde warbler feeds mainly on insects, such as lantern flies, grasshoppers, caterpillars, bugs, flies, weevils, beetles, and spiders. It may eat small frogs, but rarely.
PROTECTION / THREATS / STATUS:
Adelaïde warbler is common on Porto Rico.
© Alfredo Colón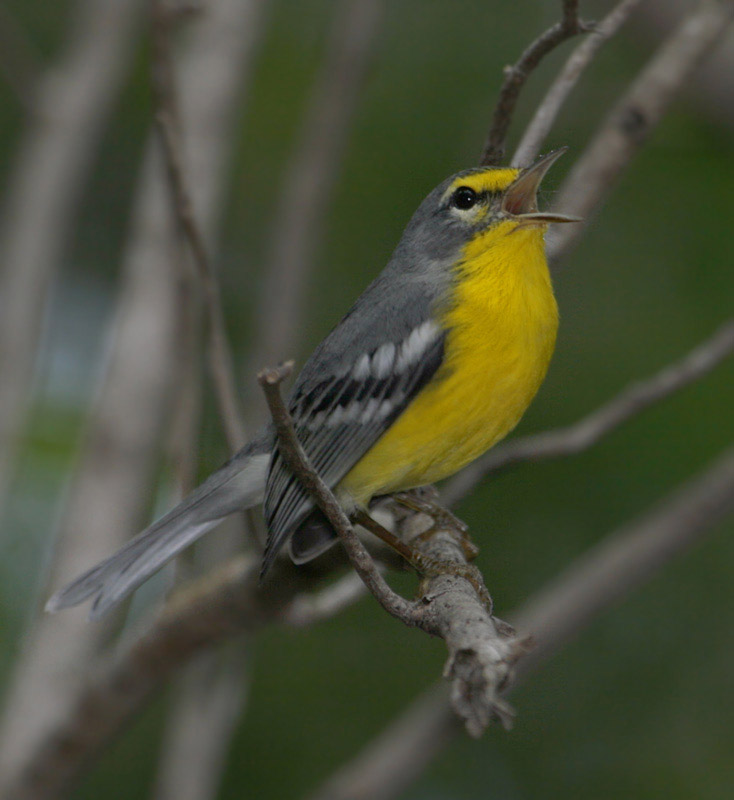 In addition of nominate race Dendroica adelaidae living on Puerto Rico and Vieques islands, there are two subspecies.
Race subita which lives in Barbados resembles nominate, but its upperparts are more brownish-grey. It lacks the black stripe on the hood side, and its double wing bar is duller. It has less white on the tail. Wings and tail have the same size that nominate race.
Race delicata which lives in St Lucia is larger. Its upperparts are darker and brighter bluish-grey. The head pattern is more conspicuous: broader and more conspicuous lateral black stripe on the hood, entirely yellow eyebrow, and yellow patch below the eye. We can see sometimes some fine black streaks on back and hood.
VOICE: SOUNDS BY XENO-CANTO
Adelaïde Warbler's call is a sharp "chick". Song is variable with ascending and descending trill.
It sings at any time of year, but it sings strongly into late morning.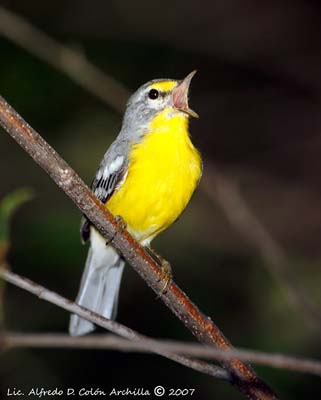 HABITAT:
Adelaïde Warbler lives in dry forests, lowlands, and moist forest areas. They like tangles of vines and thickets.
It is common in dry scrublands on south coast, and in thickets on north coast. We can found a small number of birds in mountains.
RANGE:
Adelaïde Warbler lives in Porto Rico, but also in St Lucia, and Barbuda.
BEHAVIOUR:
Adelaïde Warbler feeds on insects, and gleans them at middle and higher elevations in trees.
It travels with other species such as Puerto Rican Todies, vireos and other warblers.