Fr: Bécassine à queue pointue
Ang: Pintail Snipe – Pin-tailed Snipe
All: Spießbekassine
Esp: Agachadiza Colirrara
Ita: Beccaccino stenuro
Nd: Stekelstaartsnip
Sd: sibirisk beckasin
Photographer:
Ingo Waschkies
Bird Photography
Text by Nicole Bouglouan
Sources:
HANDBOOK OF THE BIRDS OF THE WORLD Vol 3 by Josep del Hoyo-Andrew Elliott-Jordi Sargatal - Lynx Edicions - ISBN: 8487334202
THE HANDBOOK OF BIRD IDENTIFICATION FOR EUROPE AND THE WESTERN PALEARCTIC by Mark Beaman, Steve Madge - C. Helm - ISBN: 0713639601
SHOREBIRDS by Peter Hayman, John Marchant and Tony Prater – Christopher Helm – 1986 – ISBN: 0747014035
GUIDE DES LIMICOLES de D. Taylor - Delachaux et Niestlé - ISBN : 2603014080
BIRDS OF THE MIDDLE EAST by R.F. Porter, S. Christensen, P Schiermacker-Ansen C.Helm - ISBN: 0713670169
Field identification of Pintail Snipe By S.C. Madge
What Bird-The ultimate Bird Guide (Mitchell Waite)
Wikipedia, the free encyclopaedia
Pintail Snipe or Pin-tailed Snipe
Gallinago stenura
Charadriiformes Order – Scolopacidae Family
INTRODUCTION:
The Pintail Snipe is also named Pin-tailed Snipe or Asiatic Snipe. It is similar in size to the Common Snipe, but with slightly shorter bill and tail. This species displays all the typical features of Gallinago species, and especially the cryptic plumage. It breeds across northern Russia and winters in southern Asia. It frequents grassy marshes in forest tundra when breeding.
The Pintail Snipe has wide range, but it is vulnerable to changes in the habitat, and locally by hunting pressure. But currently, it is not globally threatened.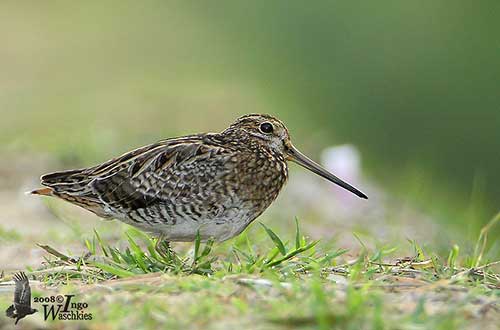 DESCRIPTION OF THE BIRD:
Biometrics:
Length: 25-27 cm
Wingspan: 44-47 cm
Weight: 113 g
The Pintail Snipe has cryptic plumage, mottled black, brown, reddish-brown and whitish on the upperparts. The feathers show pale brown edges.
On the underparts, the buff breast is streaked and barred brown. Flanks are barred brown too. Belly, vent and undertail-coverts are white.
The wings are pointed. The tail base is square but the tip is pointed.
On the head, the crown is blackish-brown with buff median stripe. The nape is blackish-brown with pale brown streaks. The throat is buff streaked brown. Face and cheeks are pale buff but lores are blackish.
The dagger-shaped bill is greyish-green at base with dark brown tip. The eyes are dark brown. Legs and feet are greyish-green to brownish-green.
The female resembles male with slightly larger bill.
The juvenile is similar to adult, but the wing-coverts have pale buff fringes and upperparts feathers have narrower fringes.
RANGE:
The Pintail Snipe breeds in NC and E Russia, from Ural Mts through Siberia and Transbaikalia to sea of Okhotsk.
It winters in southern Asia, from Indian subcontinent and Maldives, through Indochina to SE China and Taiwan, and S to Philippines and W Lesser Sundas.
Small numbers can be found in Saudi Arabia, E Africa and Aldabra Islands, and NW Australia.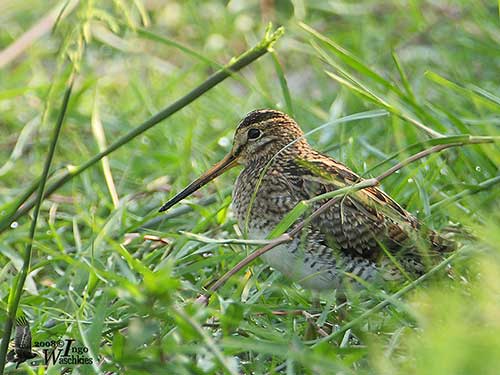 HABITAT:
The Pintail Snipe breeds in damp habitats (marshes) and tundra in Arctic and Boreal Russia, up to 2,500 metres of elevation along the treeline. However, it may use drier habitats than the Common Snipe.
The non-breeding range includes a variety of wetlands and it may frequent dry rice stubbles.
CALLS AND SONGS: SOUNDS BY XENO-CANTO
The Pintail Snipe gives shorter, weaker and lower-pitched flight-calls than the Common Snipe, usually less repeated and starting with sharper "tjet". It also utters repeated, high-pitched, nasal squeaks while flying over the territory.
During the display flight, we can hear the typical buzzing sounds produced by the stiff outer rectrices.
BEHAVIOUR IN THE WILD:
The Pintail Snipe feeds primarily on insect larvae and molluscs, but also earthworms, crustaceans and some seeds and other plant materials.
It forages by probing with its long bill in soft mud or ground, usually in wet meadows and along shorelines. It also pecks for food items from the surface.
This species is primarily crepuscular and nocturnal, but if not disturbed, it can be seen by day too.
The Pintail Snipe performs aerial displays in groups called "tok" (aerial equivalent of "lek"). A flock of several males (up to 12-15) plunges sideways, but each male may also glide and fall downwards while turning from side to side.
During this flight, the males call frequently while the modified rectrices produce fizzing and whistling noises. The sounds produced during this displays are less spectacular than those of the Swinhoe's Snipe.
The Pintail Snipe is probably monogamous.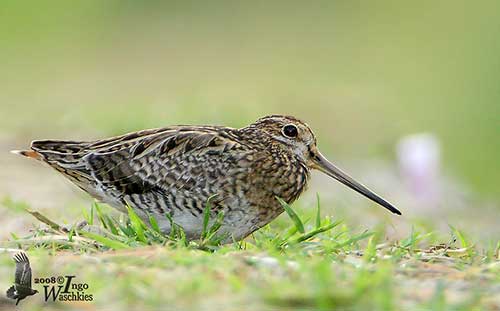 This species is migratory and travels overland in broad front. They remain in their wintering range from late August-October to March-early May. They migrate in flocks of 5-10 individuals.
The Pintail Snipe performs zigzag flight on take-off, followed by direct flight with rapid, strong wingbeats.
REPRODUCTION OF THIS SPECIES:
The breeding season takes place in spring, with the laying from late May to mid-June.
The nest is on the ground, a shallow depression lined with vegetation. It is well concealed under the dense vegetal cover.
The female lays 3-4 green-yellow eggs with brown markings, and only one brood is laid. The incubation lasts 20 days, but the role of both adults is currently unknown.
At hatching, the chicks have yellowish-brown or dark brown down with white to pale buff tips. The young become independent two months after hatching.
PROTECTION / THREATS / STATUS:
The Pintail Snipe has wide range, but it is vulnerable to hunting pressure and habitat modification.
The global population is roughly estimated at 50,000/2,000,000 individuals (2015).
The European population is estimated at 4,000/10,000 mature individuals and is fluctuating.
But currently, the Pintail Snipe is not globally threatened and evaluated as Least Concern.