Chinese Pond-heron
Ardeola bacchus
Pelecaniformes Order – Ardeidae Family
BIOMETRICS :
Length : 42-45 cm
Wingspan : 75-90 cm
DESCRIPTION:
Chinese Pond-heron male, during breeding season, has slaty-black mantle and scapulars. Head, neck and breast are dark wine-brown with a slaty patch in lower breast. It has white wings and belly. In summer, legs and feet are pinkish. Bill is yellow with black tip, pale blue on the base of the upper mandible, and yellow lores. Eyes are yellow too.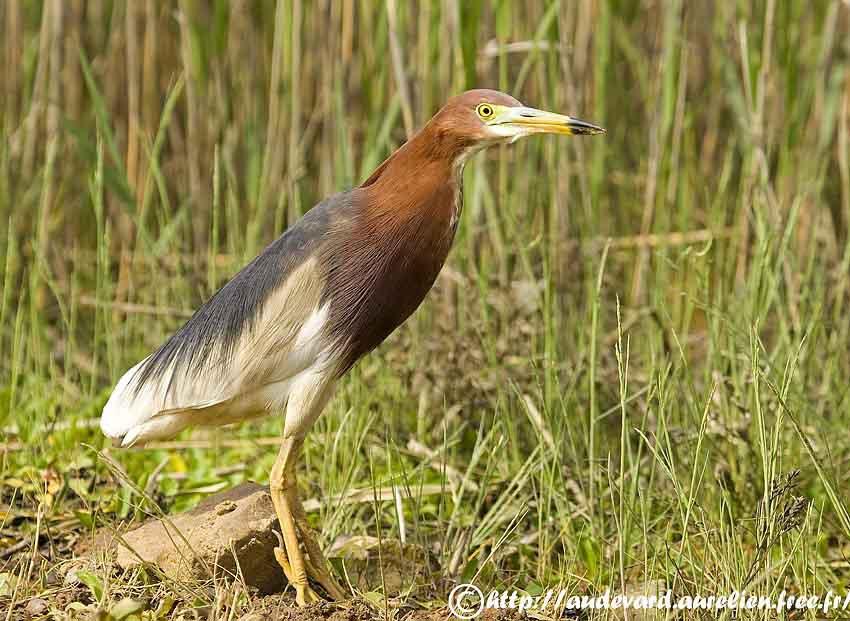 Female is paler than male on the nape, and lacks the grey patch on the breast. She also has shorter feathers.
Adult male winter has dark brown mantle and scapulars, white wings and belly, and whitish head, nape and breast, heavily streaked with dark brown. Chin and throat are white. In winter, legs and feet are yellow. Bill is yellow on the lower mandible, yellowish-grey on the upper mandible, black tip and pale yellow lores. Eyes are yellow.
Juvenile has brown plumage, streaked with buff and darker brown. Underparts are whitish streaked brown.
VOICE: SOUNDS BY XENO-CANTO
Chinese Pond-heron is rather silent. It utters a call in flight, at dusk or when flushes. It is a hard "croak".
HABITAT:
Chinese Pond-heron lives in wetlands, in shallow water, fresh or salt water, and also in ponds, flooded fields and mangroves.
RANGE:
Chinese Pond-heron lives in China and East Asia. Chinese birds migrate to Malay Peninsula and Borneo, in September-April.
Chinese Pond-heron breeds in Central China, Taiwan and Indochina.
BEHAVIOUR: Chinese Pond-heron is sedentary in India, with only local dispersion. North populations are migratory.
Chinese Pond-heron feeds by walking on the shore or standing motionless. It may forage as well during the day or at night. It is active at sunset and sunrise.
It is a solitary bird, sometimes seen in pairs or in small groups of 5-6 individuals.
FLIGHT: Chinese Pond-heron shows its broad white wings in all plumages. Feet are obvious out of the top of the tail.
REPRODUCTION:
Breeding season varies with the range.
This species nests in small colonies, sometimes with other heron's species.
Chinese Pond-heron's nest is located fairly high in trees, or among the tall grasses in water. It is made with small twigs, and the interior may be lined with leaves and grasses.
Female lays 4 to 5 blue green eggs, often in mixed nests where other herons lay their eggs.
Incubation lasts about 18 to 22 days, by both parents.
This species may produce two broods per season.
DIET:
Chinese Pond-heron feeds on terrestrial insects, fishes and crabs, but it also consumes small amphibians, worms and aquatic invertebrates. According to the region, it feeds during the day, but mainly at dawn and dusk.
PROTECTION/THREATS / STATUS :
Chinese Pond-heron is threatened by habitat loss and human disturbances.
Fr: Crabier chinois
All : Bacchusreiher
Esp: Garcilla China
Ital: Sgarza cinese
Nd: Chinese Poelreiger
Russe: Цапля белокрылая прудовая
Sd: Bacchushäger
Photographs by Aurélien Audevard
His website : OUESSANT DIGISCOPING
Text by Nicole Bouglouan
Sources :
HANDBOOK OF THE BIRDS OF THE WORLD vol 1 by Josep del Hoyo-Andrew Elliot-Jordi Sargatal - Lynx Edicions - ISBN: 8487334105
THE HANDBOOK OF BIRD IDENTIFICATION FOR EUROPE AND THE WESTERN PALEARCTIC by Mark Beaman, Steve Madge - C.Helm - ISBN: 0713639601
LES OISEAUX DE THAILANDE par Roland Eve et Anne-Marie Guigue - Times Editions - ISBN: 9812042008